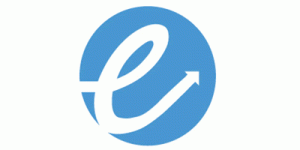 First, thank you for your subscription to the The Successful Encore Career podcast. As a podcaster, having you as a listener is invaluable. And to continue producing the content you enjoy we are always looking to expose our podcast to new listeners and a larger audience. This is where you can help us grow! Within the podcasting world, ratings and reviews are critical. We'd ask that you take just a few moments of your time to rate this podcast via iTunes Podcasting Store (TM). Three simple steps will help us more than you know.

Open iTunes and navigate to our podcasting page. Then, click on the Ratings and Reviews tab.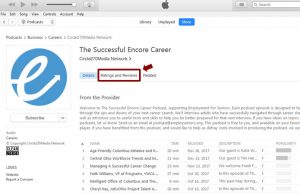 Click on the number of stars you feel best rates our podcast. (1-lowest, 5-highest score). Once you've selected your star rating, click the Write a Review button.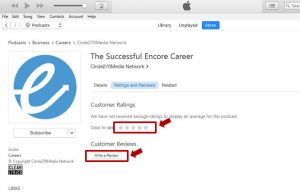 Pick a nickname for yourself (you can use your own name if you prefer), add a Title (summary) of your review and type a few words about what you like about our podcast in the Review box. Even just a few lines will go a long way in helping us get greater exposure for your show. Once you've finished your thoughts, simply hit the Submit button.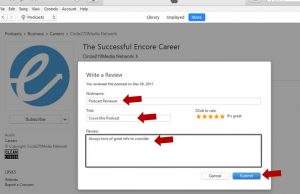 That's it! Quick and easy yet so incredibly valuable. We appreciate your support and time to helping us continue to bring you the quality content you've come to expect from The Successful Encore Career.